chocol8junkie
the theory:
a shirt-jeans-&-sneaker-wearing princess stuck in the 21st century.
the facts:
she's a carefree rockstar-wannabe waiting for her own 'happily ever after'. but for now, she's contented being psychosomatic addict insane. she prefers horror over romantic movies, sneakers over sandals, getting wet in the rain than using an umbrella. loves the beach but hates the sun. never refuses chocolate cake even if it ruins her neverending diet. drives like a maniac but parks like a sissy. had a smelly dog named tamagotchi who thinks he's a kangaroo. a geek. loves taking videos while backriding on the dragster. her most dangerous stunt is wearing high heels and a skirt. always believed that she needs to get her head checked. has a dark side she calls 'my evul tin'. just when she's into her boxing lessons, her gym closes down... without warning. only two things make her cry: when daddy makes her eat avocado and when she doesn't get her way on her birthday. she believes she's one of the endless ~ death ~ hence an ankh around her neck. she had a heart made of ice but a prince replaced it with a crystal heart. she is tin and this is her life story...
---
i'm
, so catch me in yahoo: chocol8junkie
---
the tin girl 101
my photographic interview

---
daily links
my website
i've got mail
friendster
local news
cnn
nu music
eonline
yahoo music

dictionary/thesaurus
---
these are a few of my favorite links
female forum
graveyard shit
my wishlist
my fave lines
my quizzes
beautify yourself
thinking aloud (xblog)
blog site
happy tree friends
ninjai
stick kung fu
lyrics
tech tv
pda e-books
riding tips
american eagle
de-stress!
hk films
maritess & friends
my slang
grammar check
neil gaiman

---
bloggers shmloggers
---
i lurv buttons!




---
when 'm chillin' like a villain
photos galore!
click the city
popcap
orisinal
crossword puzzle
bored?
travel
quizilla
listen to music
kevin bacon oracle
spank the monkey
liquid generation
philippine sites
hungry?
foamy
---
website galore
bels
cousin iya
puting tupa
mitchievey's knot
---
---
G!mMê $öm3 LøvÉ!
---
me, my pc, and my free time
prconline
stuff i do when i'm bored
my endless page
---
---
virtual cliques
---
link meeeh!

no direct linking, please!
---
today's weather in manila
---

---
---
Credits: Jaymark for his patience in answering my html questions.
Ayn, my website / html guru, for showing me the tricks of the trade.
Letterjames.de (c/o dude) for the marquee.
---
PARENTAL
ADVISORY
TINTIN CONTAINS
EXPLICIT LYRICS

From Go-Quiz.com
---
Contact Me
Friday, February 28, 2014
so what's keeping me busy nowadays? it's my new shop. my IG shop.

yep! after hours of scanning through (and shopping, ssshhhh!) IG shops, i finally opened one of my own. i decided to turn two things that i love ~ accessories and crafts ~ into profit.

i opened shop 3 weeks ago. i admit, it's so hard to gain followers! but i'm still hopeful as i expand my products.

i would loooove to tell you about the shop but this is all the time i have for now. i just wanted to let the blogworld know that i'm still alive.... just busy crafting and surfing and cooking up ideas and designs in my head.

wish me luck.
Tuesday, February 11, 2014
it's been several weeks since i completed my photo frame project. but i never had the chance to hang them because i need a professional job. i could probably do it myself because i know how to drill and i know a trick to make sure the frames were all lined up but i didn't trust myself to do a perfect job. so i had to contact our handyman.

we've had this handyman for years now. he fixed our apartment when we moved out of my in-laws' house, he made repairs on our very first house and he supervised the major repairs on our current home. he is so good with his job that everyone wanted to get him for construction and repairs. he even works on sundays, he is in demand like that! anyway, so when it was our turn, the first thing that i asked him to do was the photo wall. so here it is.

it was perfect! my handyman did a good job, don't you think? i love my photowall.
Sunday, February 09, 2014
veggie and fruit storage wars
doing the grocery for a small family such as ours (2 adults and 2 preschoolers) is an exact science. ok, it's not. but there's some math, science thing going on whenever we do the grocery ~ especially for perishables. we always end up buying too much onions, tomatoes, calamansi, etc and they end up rotten. boo.
we do our grocery shopping at the landmark, however, sometimes they don't sell tingi-tingi for some veggies and fruits. so i started my quest (quest talaga) to prolong the freshness of these kitchen staples so we can get to enjoy what we spent for.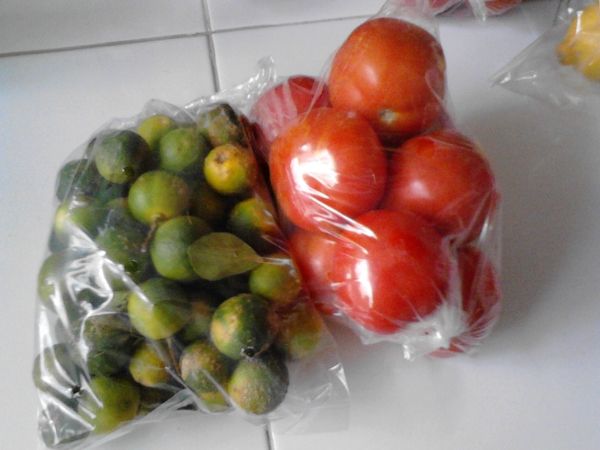 i found tips from pinterest (where else?!), experimented, tweaked them a little and discovered the best way (at least for us) to store and retain the freshness and usability of some of these items.
onions
store onions in a brown paperbag punched with holes. seal the paperbag with a paperclip. onions need the a dry and dark storage but at the same time, air should be able to circulate around it. you can store the paperbag on a countertop not in the fridge.
garlic
garlic can be stored the same way as onions - in a brown paper bag with holes. our onions and garlic last about a month in them.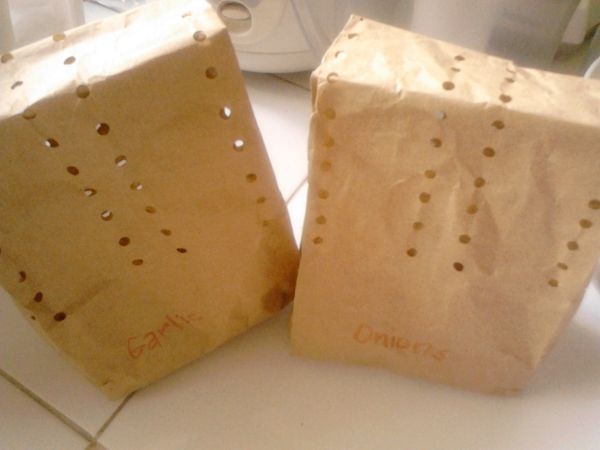 tomatoes
make sure tomatoes are dry. then simply line them up in a shallow basket (i use plastic storage) and leave them on the countertop. do not put them in the fridge as it'll spoil faster. i think our tomatoes last about 3 weeks or so with this way of storage. 3 weeks!
calamansi
calamansi should be kept in the crisper/veggie drawer in your fridge. however, it should be free from moist. what i did was, and this worked like a charm, i'm amazed ~ store the calamansi in a plastic seal-able sandwich bag with paper napkins. make sure the calamansi are dry. make a lining of paper napkins in a plastic sandwich bag. dump all the calamansi, take all the air out and seal. our calamansi lasted 3 weeks or so with this way of storing them.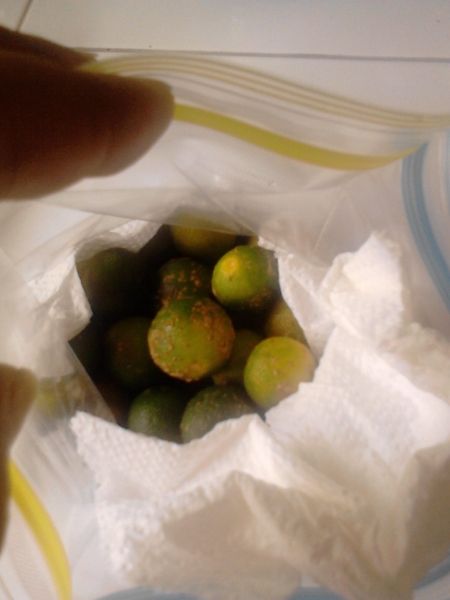 as for ginger, i tried several ways of storing them according to pinterest, like freezing it or putting it in a plastic sandwich bag, but it never seems to last for long. there must be some way to store ginger to last several weeks, i just couldn't find it. grrrr.
at least, we could store onions, garlic, tomatoes and calamansi for a long long time. try it!
Saturday, February 01, 2014
attracting luck on the year of the horse
happy lunar new year!
ok, i'm a day late. but i heard, chinese celebrate their new year for days... so in essence, hindi pa rin late ang greeting ko.
i don't have any ounce of chinese blood in me (ok, maybe a drop), but i like preparing and celebrating their new year... especially things that has to do with feng shui. i don't really advocate feng shui, but don't think there's anything wrong if you try a few tips once in a while.
anyway, to prepare for the year of the horse, i read up on our luck for 2014. according to feng shui experts, dragons (that's me) will not have any luck this year. boo. they say, if dragons want to succeed, we would have to work hard for it. monkeys, on the other hand (my husband), will have a little bit of luck this year in terms of career and wealth. yay! i'm very much hoping for that.
and so to "counter" my "unlucky-ness", i got a few things. i got this red agate bracelet with a pi yao charm. according to
this website
, the pi yao is a powerful protective cure and it attracts wealth.
i also got this jade gourd with a mystic knot to hang above our front door. it is said to bring good luck.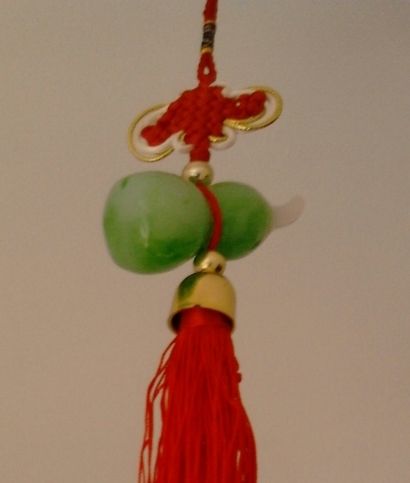 in addition, i got a golden horse on an ingot for our home and lucky coins for my wallet.
lastly, to up my luck, i constantly try to be optimistic to attract good vibes. yun naman ang importante eh ~ embrace positivity (it's giving me a red underline, is there such a word? i always hear positivity though), reject negativity. and if you sum up all the self-help slash inspiration books (the secret of rhonda byrne and paulo coelho's books, for example) and beliefs slash practices (feng shui or yoga), they all teach you to be positive ~ think positive, do positive, attract positive ~ all the time.
Thursday, January 30, 2014
happiness in a japanese bowl
i'd like to share a small win for me last week. my entry was one of the winners of the hanamaruken ramen instagram contest.



about a month ago, we took the kids to an mrt exposure trip. from glorietta, we rode the train to north avenue and spent the day in trinoma. since we never really go to trinoma (this is my 2nd or 3rd visit, i think), we decided to eat lunch somewhere new. then we came across hanamaruken ramen. they claim that their signature hanamaruken happiness ramen is the best so we had to try that. and, boy, they did not disappoint.




their signature happiness ramen came in a huge bowl. it was very tasty. the soup was just the right amount of thickness and the noodles were perfectly cooked. and the pork... the pork rib was just huge! and it was melt-in-your-mouth tender. the happiness ramen is one of the best ramens i've ever tasted. oh, and the price was reasonable too, to think that the pork rib was that big.

coincidentally, they were running an instagram contest. and of course, i had to join. LOL

and weeks after ~ not only did i enjoy their food, (and i've been craving for another bowl), i also won their contest. which, actually, won me a free bowl of their happiness ramen! wheeee! i'm one happy camper.

now, we just need to plan for a trip to the oh-so-far trinoma.
Friday, January 24, 2014
4-minute workout for a fit me
so my friend shared this 4-minute workout on fb. it's said to be the trend in 2014 and claims to make you burn 600 calories in 4 minutes. here's more from
abs-cbnnews.com
:
Created by fitness coach Jim Saret of The Biggest Loser: Pinoy Edition, the four-minute workout involves jumping jacks, squats, pushups and lunges.

Pag tumatakbo ka for one hour, you lose around 150 calories... This one will burn 600 calories in four minutes guaranteed, Saret said.

While it is ideally done in four minutes, the workout is still very much dependent on a person's fitness level, said Saret, who noted that first-timers may spend two minutes doing only one exercise.

If you're in good condition, you can finish this in two minutes. So you go and repeat it [until the four-minute timer is over], he said. Some people who are sedentary first-timers, they can only do one exercise in two minutes. You'll eventually see some progress.

Saret begins by doing ten reps of jumping jacks, followed by ten reps of squats.

Squats are one of the biggest fat-burning movements. Ang lakas magsunog ng squats, he said.

He then proceeds to do ten pushups. Assuring those who think they cannot do a decent pushup on the floor, Saret said: You can use a wall. Going to the floor is actually an advanced move. You don't have to go to the floor.

The workout ends with lunges, ten for each leg.

Noting how a lot of people do not like doing pushups and lunges, Saret said: The ones you hate are the ones that are actually going to work.
4-minutes? that's the shortest workout i've ever heard of! so, in accordance to my "resolution" to be *cough* healthier and more fit *cough*, i thought of giving this a try. hmmm... how hard could jumping jacks, squats, push ups and lunges be? *gulp*
there's a different version called 4-minute metafit workout. youtube video
here
.
Tuesday, January 21, 2014
cherry blossom living room wall
as i have started making the diy photo frames for our bare walls, i thought of doing more for our walls.

i have this huge wall decal of a cherry blossom tree that i bought for less than P200. had that for months! i really wanted to mount the decals on about 3 pieces of canvas creating 3 panels for our living room walls. but since it would cost more, i just stuck the decals directly on the wall.

ta-dah!




what can i say? i'm pleased! now i really can't wait to hang the photo frames i made. still waiting for our very own handy manny, mang jerry, who is so in demand nowadays to be available.

for now, onto my next diy project.
Saturday, January 18, 2014
yay! finally. i was able to finish a home project that i've been meaning to do for months.
since we moved in march last year, our walls are barely touched. they're so bare, i wanna cry everytime i see them. so far, i only have this on our dining room wall ~
so i searched pinterest (where else?!) for an easy diy wall decor and here's what i came up with:
it's so easy to do, it's crazy. first i had the photos printed 8R in size. then i got some 8 x 10 artist canvas from nbs.
i painted the sides of the canvas black using poster color. let it dry.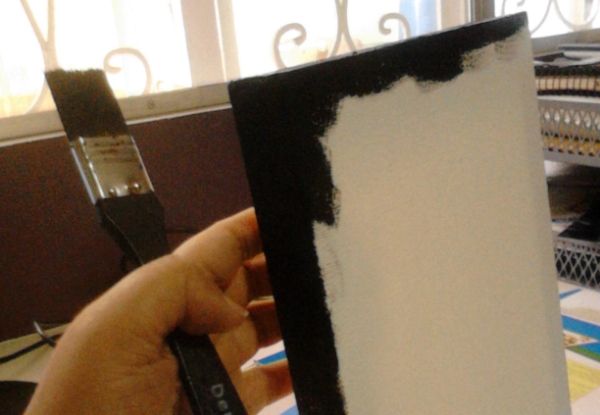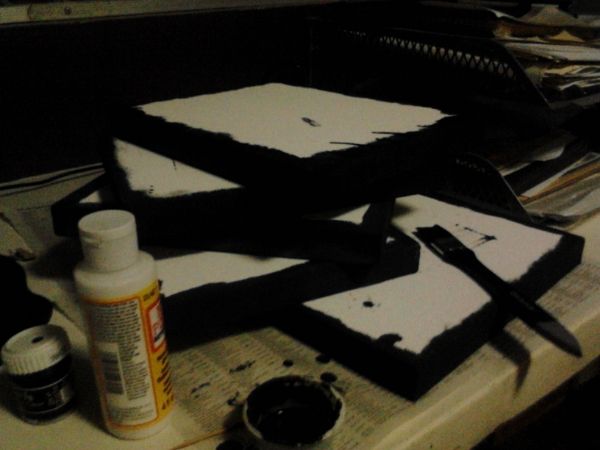 then i mod podged the photos onto the canvas. on the tutorial, it says paint another layer of mod podge on the photograph and frame to "seal" it. haven't done that yet. honestly, i'm kinda scared to put glue on the photo as it might ruin it (though all the websites i've encountered did put mod podge on their photos). but that's about it.
i'm so happy that i finally did some crafting again. it's beginning to be therapeutic that i'm thinking of what to work on next. as i've mentioned on my previous post, i've got lots of project in line. i don't really know where to start!
Thursday, January 16, 2014
i've read that 2014 is not a year for those born on the year of the dragon. according to the article, dragons will not have any luck in money, success, business, love, etc.
i say poppycock. we make our own fate.
and so to "counter" my "bad luck", i have devised a plan to make this year a good one. i don't promise 2014 to be the best year but i would like to make it less unlucky.
1) better time management
this is something that i haven't been able to perfect. with my work schedule, 2 little kids and their own schedules, moods (tao lang!), various circumstances, it's difficult to manage everything! one aspect that i have done was to spend less time working. and then i would like to blog more.
2) work on and finish planned diy projects
this will be done with better time management. i have numerous projects in mind but just haven't had the time to do them. i want to be able to finish my diy photo wall, the living room wall decor and upcycling tshirts. these are simple projects that i just can't seem to finish. boo.
3) having more playtime and reading time for the kids
despite being a wahm and despite having some time to read to them before bedtime and clean their ears or cut their nails, i feel that my time with the kids is not enough. they're growing so fast that i'm scared i might miss out on their childhood.
4) cleaner and tidier house
at first glance, our home looks nice and clean... but wait, there's more. hidden away are our messy rooms, closets, cupboards and drawers. i have a weekly cleaning calendar from pinterest but seldom follow it. i would have to print it and follow the schedule every. single. day.
5) improved physical me
tricky. i've never been really conscious of my looks. not when i was still single, especially not now that i am married and with children. for some reason, i have always thought that i would be excused of being "heavier" because i have kids. we all know that is not true. other mommies continue to look pretty and be fit. well, i'll strive for that this year. out with #balikalindog2013 and in with #balikalindogproject2014: work out at home, walk/run if possible, self manicure/pedicure, invest more on beauty products. oh, and note to self: don't go out of the house looking like shit and don't go out of the room looking like a zombie. wash face, brush hair, put eyebrows on, accessorize. lol
6) start a business
this is something that i have always wanted to do ~ perhaps start on instagram or facebook. my husband has completed a couple of diy bottle lamps that we could sell. i still want to pursue my screenprinting project. i'm also interested on reselling clothes and products targeted for busy mommies. we'll see.
i heard that to be more focused on goals, one must make a "dream board". hmm... should i make one up? but... who has time for that? LOL
Thursday, January 09, 2014
foot mask for cracked heels
one of my pet peeves was cracked heels. my feet were usually taken good care of and i hate seeing other people neglect this part of their body. that was, until i became a mom. i guess most moms would be able to relate when i say that, we usually don't have time to pamper ourselves when we juggle the kids, the husband, home management, work and everything else in between. and the most neglected part of a mother's body is their feet. as much as i want to treat myself to a footspa often, i just can't. so i looked for fast alternatives as i have been suffering from cracked heels for months!
in instagram, i would come across this product from japan, i believe, called baby feet. it's a foot mask. a foot mask?, i asked myself one time, what is a foot mask. apparently, a foot mask is something you wrap your feet in for a particular amount of time that would supposedly help soften, smoothen and solve cracked heels. baby feet cost around P450, i think.
being a kuripot and a believer that there is always a more affordable but as effective product, i looked for other alternatives to baby feet. there must be other foot masks that didn't cost that much. then i found skinlite's exfoliating foot mask in shopwise, festival mall which costs less than P300. not bad.
i don't usually do product reviews. i leave that to professional mom-bloggers who earn a living by testing out new products and blogging about them.
day 1 - soaking
i soaked my feet in that papaya and chamomile extract concoction for about 90 minutes. instructions says to rinse, so i didn't soap my feet and simply rinsed them. my initial impression was that my feet were definitely softer and smoother. the cracked heels were still there but the rest of my feet looked a little better.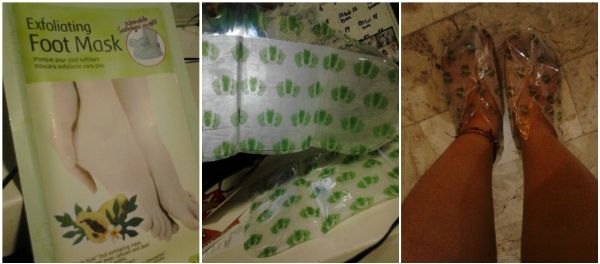 day 2-3 - weird sensation
on the next days after soaking, i felt a weird sensation on my feet. it wasn't painful or anything. it's just not normal, like warm, and like there was a very thin plastic covering my feet. it wasn't bothersome at all. no peeling yet.
day 4-9 - micropeeling
on the 4th day, there was micropeeling. not on the entire foot though. just on some parts. by this time, i was getting impatient as the mask says it took about 3-5 days only for the feet to peel and get rid of callouses. so i kinda "helped" peel some skin away. i know i'm not supposed to, it actually gave me a booboo or 2. pfft.
day 10-onwards
now my feet were really peeling by this time. i wasn't able to get pictures, but i had pieces of skin peeling off my feet. it was kinda yucky but satisfying at the same time. my kids even helped peel some skin off. haha!
so the verdict? it worked! the mask worked! at some extent, i don't have cracked heels anymore. but i do have smooth and soft feet now. and it's not embarrassing to wear sandals anymore. maintenance is the key... and maybe one more session of the mask then my feet will all be set.